What is the Linimo?
Linimo is the only magnetic levitation linear motor car in Japan. In the past, a vehicle which floated above the ground was considered a "dream vehicle".
This is the only place in Japan were you can experience this wonder of technology and enjoy a comfortable ride on just such a "dream vehicle".
During the 2005 Aichi Expo, the Linimo became popular as a "moving pavilion", and in all carried about 20 million people.
Ride the Linimo
The Linimo runs in the east area of Nagoya City, Aichi, Japan. For access from the Chubu Centrair International Airport, there are train routes and direct airport buses to the Linimo Fujigaoka Station.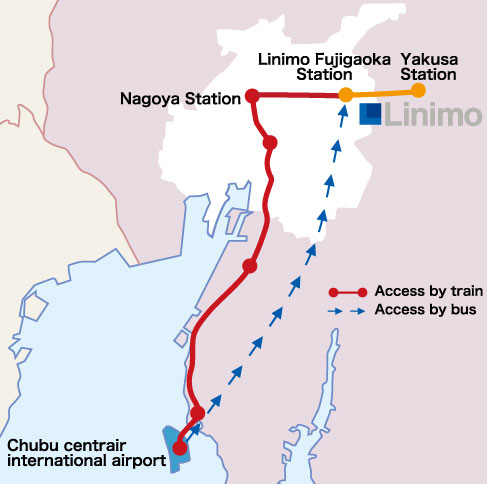 Sightseeing spots in the area
Why not jump on the Linimo and go and see the Toyota Automobile Museum or the Ai Chikuhaku Kinen Koen where the Aichi Expo was held!
Original Linimo merchandise
Pick up original Linimo merchandise at Fujigaoka or Yakusa Station!
Here are just a few of the items you can only get at these stations. Check them out.
Train chopsticks
Price: 650 yen
Station name key chains
1 station: 300 yen
Set of 9 stations: 2,700 yen
Die cast model
Price: 8,000 yen
Mizuki Yakusa merchandise now on sale